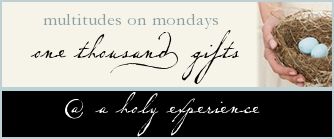 I had grand hopes of taking photos to go along with things in my gratitude journal but that didn't work out for this week - all I have at the moment are cell phone pics, and not great ones at that. but it's what I have at the moment. Hopefully next week will be better!
my sweet baby boy - growing SO fast!!
I braided K-A's wet hair and she was super happy with the wavy-hair results in the morning!
playing with TTV photography on Saturday
Through The Viewfinder proved to be pretty tricky but it was SO much fun to try it with my camera on my cell phone!!
cookie bars - and my mom's vintage camera
wearing my jeans this weekend - oh the joy! No small thing after you've been preggo.
Katie-A got her ears pierced this weekend. She was SO brave!! She didn't cry at all.
Eli is still such a good sleeper - I am very grateful for that!
other things I'm grateful for:
a full photography class this month!
opportunities to be calm while the kids were going crazy
walking through the Fresh Market with Josiah - touching everything and exploring fresh foods
cleaning the house on Saturday
editing a photo for a friend
feeling really satisfied with my life