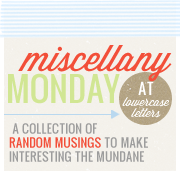 I can hardly believe it - this is my
500th
post! And I now have
200
followers -
how cool is that
? Y'all are so awesome.
This weekend has been the kind of weekend that make me remember how much I love the season if life.
On Friday night Daniel & I had a date night in. We got the kids to bed early enough so that Daniel and I hadn't hit the zombie stage yet (I know you
know
what I'm talking about) we watched
Date Night
which was funny. Although personally it I thought it was a little bit more vulgar than I prefer and kind of predictable. But it felt good to laugh together.
On Saturday went out to see the Karate Kid at the discount theater - it was a GREAT movie. So well done. Everyone loved it.
Then we went out for ice cream, walked around the mall, picked up some Papa Johns Pizza on the way home and spent the
entire day together
doing fun stuff and enjoying being together. I keep carrying around with me the thought that these kids of mine are growing up
fast
and I will miss them when they are grown.
I already miss when my kids were littler. Yes, life was way more universally exhausting - it was HARD but it was simple. Most of the time. Raising my kids just seems to get more and more complicated - and in some ways more and more fun!
I ran into a nice lady at the Post Office whose children were all grown - she said "it's awful" I got a comment on my blog from another lady who said that she considers her litle-kids-at-home years ti be "the best years of her life". I can barely imagine my life without kids. I know that this stage is often-frustrating and nearly-always-hard but I love it.
On Saturday night I went out with a friend to see
EAT PRAY LOVE
- it was so good! I think some very conservative Christians would feel uncomfortable watching it because the story deals with divorce and tallks about God in a not-strictly-Christian way. However I love it. It was such an emotional movie. I thought Richard Jenkins (who played Richard from Texas) was
amazing
and everything about the movie was beautiful.
I think if you're going to see the movie and read the book you should see the movie first. That's my theory about movies & books anyway. I don't like sitting down to watch a movie and already knowing how it ends. I started reading the book Charlie St. Cloud but I'm not going to read any more of it until I've seen the movie.
At
I Heart Faces
the theme is Sunglasses so here is my photo for that:
My oldest daughter and me - enjoying the summer!
Here is another shot I wanted to post. I know I've used it before but it's a favorite of mine from when Josiah was a baby. Notice the reflection in Daniel's sunglasses?
We sang this song at church yesterday - it was so simple and yet so powerful. The quality of this video isn't the best but I really wanted to share it with you!
Happy Monday!
p.s. I'm linking up for the first time with
My cup 2 yours
. Go check out her latest post about her daughter begining middle school. It's wonderful and I can really relate to it at the moment!