We LOVE going to the pool!
Especially Josiah, who will try to get ready hours before we actually head out the door
Beth is a really good swimmer now. She can swim in the deep end without floaties
She really loves to wear a mask. (just like Mommy did when she was little)
Emma is so brave! She jumps the highest and gets water in her face the best! She lets her Daddy throw her into the deep end. She is not a strong swimmer without her floaties yet but she is getting better every day.
It took Katie-Abigail a long time to feel comfortable in the water. The first time she went out into the pool by herself she had a floaty vest, water wings and a ring!
Now she is down to just the water wings and is getting to be a great little independent swimmer.
Josiah is a great little swimmer too. It took him a
really long time
to get comfortable in the water and to use just the water wings but now he's out little water bug and is the last one to get out of the water just about every time.
Click here to watch a video of Josiah swimming:
How cute is that?!
I'm linking up with Miscellany Monday over at lowercase letters ♥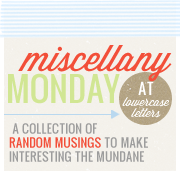 This week to
celebrate
the kick-off of my first ever Photography eClass I'm hosting a link up party EVERY DAY this week! Today link up with a song you're thinking of, loving right now, listening to *just please remember to keep it family friendly :) Here's one that came to mind! I used to listen to this as a child all of the time.
here's my kid's current favorite:
Please link with the url of your
blog post
and not the url of the song. :) All linkys for this week will be open until Sunday night 11:59pm EST