Today has been really busy running errands. But I brought my camera with me. I'd never done that before. It wasn't as hard as I thought it'd be and I didn't destroy my camera!
Here I'm at Publix picking up a few things to get us through the week. After this the kids started pinching each other and by the time I got to the register I was on my very last nerve. I dropped the groceries off at home and headed to my yoga class :) yay!
I'm glad I took this picture. One of these days when the kids are grown I want to look back at this and say "I SURVIVED!!!"
I took a 100 Acre Woods personality profile and here is the result! No surprise there!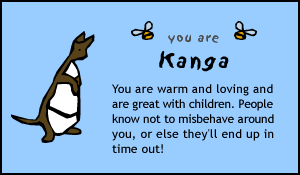 Take the 100 Acre Personality Quiz!